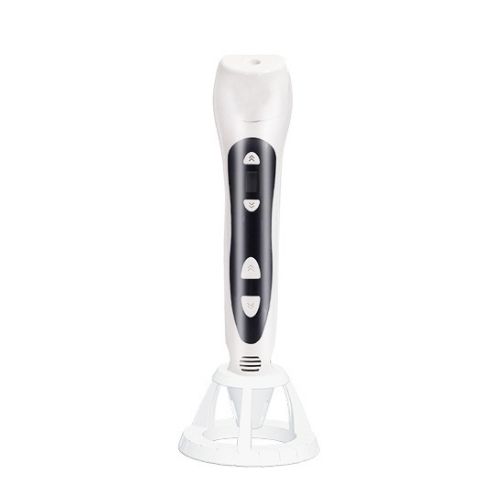 3D Pen D-2020 White
Availability:
Out Of Stock
Product Description
D-2020 so pisala nove generacije, ki omogočajo enostavno in varno uporabo. Dovršen je celoten dizajn, prav tako je izboljšana tudi sama konica pisala. Grelno telo je skrito in zaščiteno v ohišju, kar preprečuje možnost opeklin.

Z malce vadbe boste postali pravi umetniki. 3D pisala so primerna tako za otroke(ob nadzoru odrasle osebe), kot za odrasle. Starostne omejitve skorajda ni.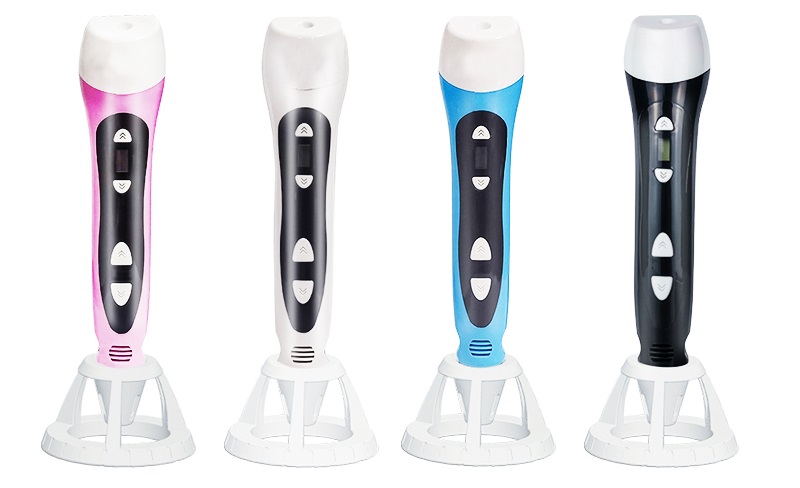 Pisalo ima pri konici dve tipki "<<" in ">>". "<<" ima funkcijo dodajanje filamenta, ">>" pa regulacija hitrosti in odstranitev filamenta. Na voljo so tri stopnje hitrosti brizganja plastike.
Pri LCD zaslonu sta tipki za izbiro materiala PLA ali ABS in regulacija temperature.

Na vrhu sta dve luknji katera je ena napajanje 3D Pisala druga pa za plastiko.
Če je pisalo dve minuti v mirovanju bo prešlo v stanje spanja in se tako počasi ohladilo. Za ponovno segrevanje pritisnite tipko "<<".
1.korak - Vključite priložen adapter v 220V vtičnico in konektor na adapterju v pisalo. Vključil se bo LCD zaslon na pisalu.

2. korak - Na LCD-ju vam bo pisalo PLA ali ABS. Pri tem koraku izberemo tip polnila katerega bomo uporabljali. Pisalo na podlagi polnila samodejno izbere temperaturo za delovanje. Za izbiro materiala uporabimo tipki pri LCD prikazovalniku. Izberemo material in pritisnemo tipko "<<" za podajanje.

3. korak - Na LCD prikazovalniku se bo začela temperatura dvigovati, kar pomeni, da se konica segreva in pripravlja za uporabo. Ko doseže izbrano temperature, bo posvetila zelena lučka, kar pomeni, da je pisalo pripravljeno za uporabo. Sledi priprava filamenta. Filament ravno odrežite 1cm od začetka (pri prejšnji uporabi lahko ostane neenakomerno odrezan). Pritisnemo tipko "<<" za dodajanje, slišali bomo motorček v pisalu in sedaj je čas, da na vrhu pisala vstavimo prej pripravljeni filament. Motorček bo začel filament samodejno vleči in pisalo bo kmalu pričelo brizgati plastiko. Ob ponovnem pritisku na "<<" za dodajanje se bo motorček začel vrteti v nasprotno stran in ustavil, kar pomeni, da filament povleče nazaj v pisalo in tako prepreči iztekanja filamenta. Pisalo je pripravljeno za ustvarjanje.
4. korak - Menjava filamenta. Ko se odločite za menjavo barve, to enostavno naredite z dvakratnim pritiskom tipke ">>" za dodajanje in motorček bo filament potisnil ven. Za ponovno vstavljanje filamenta uporabite korak 3.

5. korak - Konec risanja. Po končanem ustvarjanju filament odstranite po enakem koraku, kakor bi ga menjali. Izključite 12V napajanje iz 3D pisala in pisalo postavite v stojalo, da se ohladi.
V paketu:
3D Pisalo
Napajalnik 12V
Stojalo
Navodila(en)
Knjižica s šablonami
PLA filament + 3x 50g PLA Filamenta katerega vam mi podarjamo, barve so mešane z možnostjo podvojitve
Garancija: 3 mesece